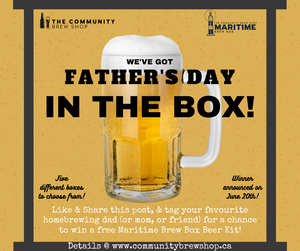 Win a Maritime Brew Box for Father's Day!
That's right, it's contest time again!
In honour of hard working dad's everywhere we are giving you a chance to win a free Maritime Brew Box beer kit for dad this Father's Day! Head on over to our Facebook page a take a look at the pinned post. All you have to do is like, and share the post, and then tag your homebrewing dad!
Now we know that June 20th is all about fathers, but we also know that families come in all shapes and sizes so feel free to tag a homebrewing mom, friend, cousin, mentor, or whomever!
Here's how the contest works: The like and the share of the pinned Facebook post is the buy in. You must do this in order for your entries to count. Your entries are the tagged people. You can tag as many people as you want, so spread the Father's Day love around! On Father's Day (June 20th, 2021) we will pick a winner from among the tagged people, and that person will win their choice of one of our five Maritime Brew Box Beer Kits! 
Do you want to know the best part? It's 100% free, no strings attached! We will even pay for the shipping & handling! 
Remember, each box contains all the pre-measured ingredients to brew an all-grain 5 gallon batch of beer. If the winner lives in the greater Saint John area we have our loaner gear available, but your tagged Facebook friend should probably have their own gear, and some familiarity with one of the various all-grain brewing methods. Open to residents of Canada only.
What a great way to give your dad a great gift... and if you brew it with him its both quality time, and a source of high quality beer for you to share! 
Cheers, and good luck to everyone that enters! 
Happy Father's Day!
---