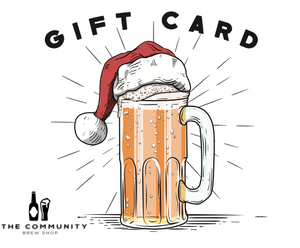 We're Shipping Canada Wide & It's Contest Time

With the big news that The Community Brew Shop is now shipping across Canada we wanted to host our first contest to celebrate! Please see the details below:
You probably made your way here via a shipping is now available / contest time post on Facebook & Instagram. If you don't follow us – you should – although it is not a requirement for the contest.
We want to get the word out – shipping is a big play for us, and we are so excited to be servicing the entirety of this great country.
The Rules: You will received one (1) entry into a random drawn FOR EACH of the following actions.
Like for one (1) entry & share for one (1) entry

 

this Facebook post. Total of two (2) entries.
Like for one (1) entry & comment/tag a friend for one (1) entry on

 

this Instagram post. Total of two (2) entries.
BONUS ENTRY:

 

Subscribe to our newsletter, it's not spammy – we use it for announcements & to showcase new products only, and we never share your data. Do this for one (1) entry. You can subscribe to the newsletter using the form in the footer of every page on our site.
That's a total of five (5) potential total entries.
The Deadline: You have until December 14th to get your entries in.
The Prize: A crisp new $50 gift card – physical or digital – from The Community Brew Shop. This is a great prize for both experienced, and new brewers alike. It's value is enough to fulfill a good recipe for your next brew day OR it would cover the cost of the ingredients for a Loaner Program brew if it would be your first time. Please note: the Loaner Program is only available to residents of the Greater Saint John, NB area and is subject to a small, fully refundable security deposit.
So get out there and like, share or comment! Help us spread the word that The Community Brew Shop is now servicing ALL OF CANADA! Good luck to all contest participants, and thank you for your continued support.
The Fine Print:
The contest winner will be picked on the evening of December 15th 2020. Only entries submitted before 11:59:59PM on December 14th 2020 are eligible. Multiple shares on the Facebook post and/or multiple comments on the Instagram post – while appreciated – will not result in extra entries. You can only have a maximum of five (5) entries.
All current newsletter subscribers will automatically get their entry, no need to signup another email.
A list will be generated from all entries, and the winner will be picked using an online 3rd party random number generator. The winner will be announced on our website, Facebook & Instagram accounts on the evening of December 15th, 2020.
The winner will have the option to choose a physical or digital gift card. If a physical card is chosen and the winner is outside our local delivery area we will mail the card to the winner free of charge. Please note if choosing a physical card and requesting it to be mailed we cannot guarantee it will arrive by Christmas given COVID-19 restrictions and holiday postal service delays.
It goes without saying that Derek, Christian & our immediate family CANNOT WIN.
The contest is open ONLY TO RESIDENTS OF CANADA.
The move to shipping nation wide is a big play for us and Derek and I both appreciate the support!
Cheers!
Christian & Derek
---