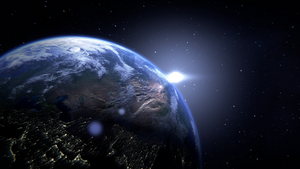 Space Beers on Your Couch
Brewing has a long tradition of major change, adaptation, growth, and has overcome many challenges which has forced brewers to become more creative, sometimes even sneaky with their techniques to keep thirsty customers coming back. Shaped by laws, tradition, environment, wars, religion and science; we as consumers are still the main influencers in what "beer" actually is.
If we were to freeze ourselves cryogenically and emerge a few hundred years from now we would awake with an unquenchable thirst and sprint or teleport to the nearest space pub that would likely be playing techno music and have people dressed in reflective silvery clothing with strange hats.
The only thing to quench our thirst would be beer. Served in a clunky mug shaped device that mechanically adapts perfectly to your grip that would block light from diminishing the hop character, but have a holographic image to show the exact colour and clarity, with a built in C02 charger to ensure the beer always had the exact amount of CO2 after every sip. A small fan would blow the aroma to the top of the mug directly into your nostrils and the internal mug temperature would stay at exactly 3.33 Celsius no matter how long it sat (patent pending - Community Brew Shop 2090).
Taking those first 3 big loud gulps and slamming down your space mug you realize this is the best beer you have ever had in your life. You pause for a minute and think back to beer before you were frozen and wonder what the homosapien next to you would think about your homebrew you had dreamt about while you were frozen. You had 60 years to think about how to make that last best bitter, IPA or marzen slightly better, more professional, and to find what it was that was missing to make the beer like the "big guys".
We are currently in the scientific era of beer: knowledge is easily accessible, beer products are highly understood scientifically, they are made to be user friendly and are accessible to homebrewers that can turn their homebrew into perfect space beer.
The discovery of yeast in the late 1600s was the moon landing in relation to brewing, so  in other words NASA needs to catch up. While they are wasting time worrying about the moon and mars we can sit on our couch and watch, drinking perfect homebrew with much less stress thanks to everyone else's hard work - that's refreshing!
Here at the Community Brew Shop we have always sought new ways to make your brew out-of-this world. It is an ongoing journey, an educational process and a somewhat hard to navigate universe of beer ingredients, processes and equipment.
We are here to help with some new exciting products that are easy to use, affordable, and can take your beer to the next level.
These products are not new by any means, they have been in use by brewmasters and professionals, and have been modified over time to be environmentally friendly, sustainable and vegan. There is however one problem we had at The Shop. Packaging. These products are often sold in large, non-reusable bags which in most cases are messy and too large for your average homebrewer. The large quantity brings the price too high for making smaller batches, so many may not want to fork over the hefty price tag for a KG of something they will only use on occasion, and only 1 gram at a time. You then need to package the remaining portion at home, or leave the messy bag around.
We have decided to reduce the size of these professional ingredients to make them accessible, resealable and affordable, so even new brewers can enjoy the benefits of professional beer making. It makes a bit more work at the shop, but takes the hassle away from the customer. Spend more time focusing on your brew, spend less money and keep your products safe and accessible for next time.
All of these products are available on our website and can take your brew to the next level with faster and healthier fermentation, improved wort extraction and clarity, and crystal clear finished beer that will make your homebrew look like it came from a long lagering stage.
To make water profile management easier we are happy to say we have gained access to the Saint John water profiles through a series of connections, emails and bothering people who don't have time to worry about some silly homebrewers. We are looking to get quarterly reports (as the water changes throughout the seasons). Contact us if you would like a copy sent to your email! You can brew the perfect Czech Pilsner, or the best IPA you have ever made. Getting your water profile right is often the difference between a good beer and a great beer. We offer all the proper minerals for adjustment in affordable sizes in resealable containers.
Thanks for reading along and being a part of the community! See you in space! Cheers!
Derek
---