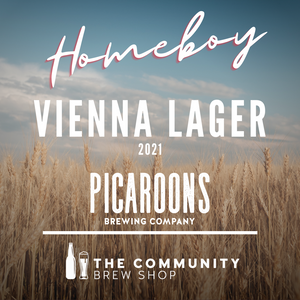 Say Hello, to Homeboy!
Today is the day!
On April 9th, 2021, our collaboration beer with Picaroons General Store in Saint John will be released. We had a great time brewing with brewer Kevin Dooley a number of weeks back, and it is extremely exciting to finally get to share it with you all.
Here's the details:
Name: Homeboy (more on that later)
Style: Traditional Vienna Lager
ABV: 6.2%
SRM: 13
IBU: 23
Ingredients: Vienna, Munich & Caramunich Malts, Saaz Hops, Lager Yeast
All ingredients were provided by The Community Brew Shop, and Homeboy was brewed on the weekend of Feb 6-7th, 2021 at Picaroons General Store in Saint John, NB.
Homeboy Lager is an Austrian inspired beer made with traditional ingredients that are mainly used nowadays in smaller amounts to support the character of the once popular style. When malting techniques improved in England a young Austrian brewer who had recently inherited his father's brewery in Vienna set off to examine the new & improved way to lightly roast grains.
When he returned home he quickly employed the new malting technology, and using lager yeast instead of ale yeast he made a new, copper coloured beer - now known as a Vienna Lager.
Homeboy was made with no adjuncts, and to historical standards. The beer has a slightly elevated ABV, but remains well balanced and easy to drink because of the high quality ingredients -which you can buy at The Community Brew Shop BTW 😎.
It is a cleanly finished copper coloured beer with a well balanced malt & hop profile. Using mainly Vienna malt creates a delicate easy drinking beer. A toasty, sweet, and malty aroma dominates, but the flavour is layered to produce a clean tasting character. The use of Saaz hops leaves a slightly spicy and earthy hop finish. The malt creates a foamy head that lasts, and makes this beer an easy drinker.
We have installed a custom 3D printed tap handle (thanks Matt), and a creamer tap at Picaroons in Saint John, while the beer is on tap, to add to the already amazing experience the establishment provides. Pours are available in 20, 12, or 5 ounce sizes, and growler fills are available so you can enjoy Homeboy anywhere!
So now, the important part - why Homeboy?
One half of The Community Brew Shop team is Derek Dygos who just happened to be raised in a town called Vienna, in Ontario. We thought Homeboy portrayed a causal, home town feel that all Saint Johners know and love, and given that Derek is from Vienna, it just made sense for our Vienna Lager.
A big thank you to the management & staff of Picaroons General Store for offering us the chance to show off our quality ingredients on a larger scale. We couldn't be more passionate about our Shop, and getting the opportunity to show off our quality ingredients in a professional setting really meant a lot to us. Another big thanks to Kevin Dooley - brewing at Picaroons General Store - for assisting on brew day, and lending his expertise.
Cheers!
Christian & Derek
---