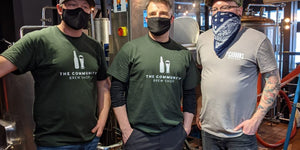 Picaroons General Store Collaboration
On the weekend of Feb 5-7 2021 the good folks at Picaroons General Store in Saint John NB invited us to come in and brew a beer on their system. We take a lot of pride in our business and the ingredients we carry, so a collaboration that would give us a chance to show them off on a larger scale was something we were very interested in. With Day 1 & 2 in the books I wanted to share our thoughts on working with Kevin at Picaroons for the weekend.
Picaroons, as many die-hard, beer loving Maritimers know started in Fredericton NB in 1995. The Roundhouse in Fredericton brews in a unique open air fermentation setup but the equipment in Saint John is more in line with what you would typically see in a micro-brewery. Kevin Dooley – a friend and the head brewer at The General Store – has been homebrewing for years, moving to all-grain in 2016, and to his pro gig at Picaroons in 2019. With over 70 delicious brews under his belt his unique-to-the-General-Store brews are fan favourites all over Saint John.
Derek & Kevin worked together to develop a recipe for a Vienna Lager, a style that Kevin has wanted to brew for a while – and a style many homebrewers have trouble replicating without higher-end equipment due to the lower temperature of fermentation on lager yeast. Brewing this beer offered a lot of new experiences for both The Shop & Kevin at the General Store. First off, all the ingredients used in the brew were supplied by The Community Brew Shop. This was the largest brew we have ever done, and was also the largest order of ingredients we have ever fulfilled from our inventory. We take a lot of care to ensure our products are stored properly and milled fresh so it was exciting to see how they would preform on a larger scale. For Kevin this represented the first time using Munich Malt as a base malt and a main ingredient in a General Store brew; and while he has done collaborations before this was the first time doing it with brewers that only have smaller scale homebrewing experience.
Day one consisted of a Friday evening session to mill the grain, setting the water Ph and getting the workspace ready for Saturday's brew day. The first brew day itself went very smooth with only a few tips & tricks Derek and I had to pick up along the way. Kevin was great and let us do most of the work while joking around and having a good time in his usual manner. It was a great experience for us and a very fun day. Derek and I acclimated ourselves to the professional setup fairly quickly. On our homebrewing system we use pumps, a sparge arm and a few other accessories that are usually found in professional setups, so our learning curve was mostly tied to the touchscreen control panel and using the heat exchanger instead of a coiled wort chiller. Oh, and let me tell you about using tri-clamps when you are used to quick connect… That part was a bit humbling.
I am happy to report that we hit a few points higher than our expected target gravity. We have a running theory that this is because we mill our grain a bit finer than the grain Kevin usually uses in his brews – a theory we are planning on confirming today on our second full brew day.
The beer should be available in popular locations in Saint John & Fredericton in the spring of 2021 and we can't wait to taste it. Stay tuned to our blog and social media channels for updates on the brew, it's name, and where you will be able to give it a taste. For a video recap of the day check out our Youtube channel below.
---