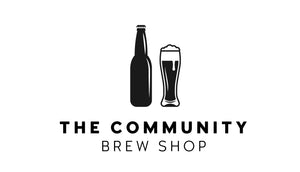 Open For Business
You probably came to this blog post to learn about why Derek & I started The Community Brew Shop and we're going to get there, but I have to get some business out of the way first.
---
We – and I am sure many of you – were customers of the fantastic Craft Brewers Market in Rothesay NB. It's closing was a difficult loss because of the circumstances surrounding it, and we wish the family of the former owner all the best. With its closure we lost more than a place to buy supplies locally; we lost a good man and a strong supporter of home brewers in New Brunswick. Rest in Peace.
---
Derek Dygos has been brewing beer for a lot longer than I have known him. A few years ago I joined him on a separate project and we became fast friends. It wasn't long before we were brewing beer together on a regular basis, upgrading our equipment and trying out new recipes as often as our busy schedules would allow. As mentioned in the paragraph above we were avid shoppers at The Craft Brewers Market and we loved the local touch the business brought to the community.
With its closure it became more and more difficult to source grains, especially in Saint John. There are some other suppliers around the province, but none that are really specializing in home beer brewing, and few keep more than the most common products in stock. We looked to Ontario and Quebec for ingredients but shipping costs for smaller orders were killer and not feasible in the long term. After a few brew days (and more than a few beer) we decided we had to do something. The idea for The Community Brew Shop was born.
Our mantra is simple. Start small, grow the community, grow the business. This strategy has turned out to be a godsend in the time of COVID-19 as our fledgling operation is agile, and we were able to get started with minimal impacts.
We are opening the online shop with what we feel is a strong selection of base grains, commonly used yeasts & a strong selection of specialty grains & adjuncts. I have implemented real time inventory monitoring to make sure that we keep our inventory tight, ensuring fresh grains that will be perfect for your next home brew. While we evaluate sales and business trends please feel free to use the "wishlist" function if there is a product you are looking for that is out of stock. Derek & I can use this list to see what products are in high demand so we can adjust our stocking levels accordingly. Using this feature will also notify you when the products you want are back in stock. We plan to increase our inventory levels as business demands it. Responsible growth ensures you get the freshest products and a variety of grains & supplies.
We order exclusively from a Canadian supplier to keep costs low, and we believe we are bringing good products at a fair market price to the community.
We plan to maintain this blog with regular posts on all things home brewing. New gadgets, trends, stories & news. We also hope to expand on these articles with recipes (both ours and customer submitted) and we hope to feature local home brewers in the future, so if you have a story to tell be sure to reach out to us.
This business strives to serve this amazing community and we look forward to being part of your next brew day.
The Community Brew Shop – Open for Business.
Christian & Derek
---