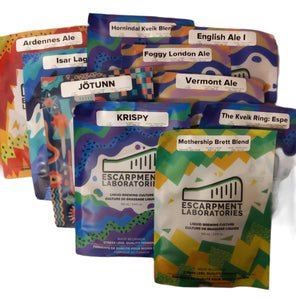 New Escarpment Labs Yeasts in Stock!
Back by popular demand!
We ran pretty low on our first batch of Escarpment Labs yeasts so we had to order some more! We now have new to us strains like JÖTUNN & London Ale, and we brought back some hits like Vermont Ale, Krispy, & The Mothership Brett Blend.
Here is a complete list of all newly stocked Escarpment yeasts: JÖTUNN, Krispy, English Ale I, Vermont Ale, London Ale, Mothership Brett Blend, Kveik Ring: Espe, American Ale, Hornindal Kveik (a popular request), Isar Lagar Yeast, & Ardennes Ale Yeast.
We are proud to carry Escarpment Labs products in the store and we think we have something for everyone no matter what you are brewing.
If you like, grab a beer and check out our interview with Richard Priess, one of Escarpment's founders below.
Cheers!
Christian
---