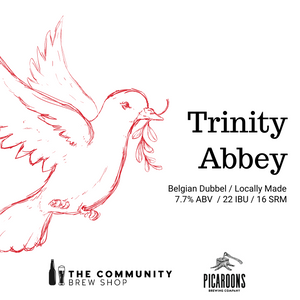 Introducing Trinity Abbey
Trinity Abbey is a collaboration between Picaroon's General Store and the Community Brew Shop.
This Belgian Dubbel is made to historical standards using water adjustments, classic Belgian malt, noble hops, Abbey yeast used by traditional Trappist and Abbey beers and white (Wit) Belgian Candi sugar. Layered base malt create a smooth malty transition to dried fruit, plum, caramel, flavours in a rich/sweet malt forward beer. Hops restrain the sweetness with moderate spicy, peppery undertones finished by complementing fruit and spice esters from the yeast.
A rich, long-lasting tight foaming head conceals the medium body and dry finish of this delicate beer that transitions smoothly from malt to hops and finishes with a clean bitterness that prepares for the next sip.  Lagered for clarity and balance to tradition and best served at higher volumes of carbonation to recreate a bottle conditioned presentation.
Check out the video below for a full description, and we hope to see you out at Picaroons on Friday, March 4th, 2022.
Cheers!
---
3 comments