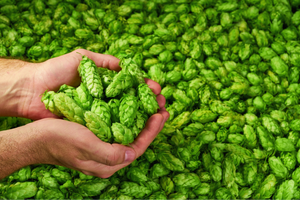 Hoppin' Around the World
Hops.
In many ways hops can make or break your beer, and many of the most popular styles today depend on very specific hop combinations to achieve the desired results. With the rise in popularity of NEIPAs, West Coast IPAs & every variation in-between, selecting the right hops can be one of the most important decisions you can make when designing recipes. And it's not just the heavy IBU hitters that depend on quality hops - and hops do so much more than just influence flavours.
Hops can influence bittering & aroma in beers just as easily as taste and knowing at which point in the boil to add which hops adds another layer of complexity to beer making. Even brewers that don't want forward hop character will be looking for something to act as a preservative in their brews, and hops fill that role as well.
Since we opened our digital doors right around this time of year in 2020 we have always carried a strong selection of hops, including popular varieties used by craft breweries and homebrewers all over the Maritimes. Locally grown Cascade, Centennial & Wild varieties have been in stock since day one, and we quickly began adding popular European hops like Fuggle, Saaz & East Kent Golding. Over the past year we have brought on multiple new hop farms & suppliers, and now boast over 35 unique varieties - including some hard to find or rare hops that have been recently added.
Let's look at some of the new kids on the bine.
Bramling Cross 🏴󠁧󠁢󠁥󠁮󠁧󠁿 - a rare breed and is mostly available in the UK. First harvested in 1927 at Wye College its lineage is a cross between Golding and a wild Manitoban (Canadian) hop. It is considered well suited to cask conditioned recipes as well as Christmas and fruit beers.
Tardif de Bourgonge 🇫🇷 - Translated into English, Tardif de Bourgogne means Late Burgundy. Similar to Precoce de Bourgogne (Early Burgundy), it is an aroma hop grown in small quantities in the Alsace region of France. It is said to feature a mild European-style aroma and is thought to have come about via the clonal selection of an old French landrace. Unfortunately, Tardif de Bourgogne is somewhat difficult to find on the open market.
Motueka Hops 🇳🇿 - Formerly known as Belgian Saaz or B Saaz, Motueka is a premier New Zealand hop. Developed by Hort Research, this triploid was bred from Saaz and an unnamed New Zealand breeding strain, and lends itself well to Lagers, Pilsners and Belgian Ales. It makes an excellent dual-use hop, carrying an exciting fruit aroma with refreshing notes of tropical fruit and citrus. It can be used at any point during the brewing process and works well in sweet, malty and fruity beers. Massachusetts brewery brewmaster Jack uses Motueka in a Maibock and Sierra Nevada brewery also debuted their Southern Hemisphere Harvest fresh hops ale in April 2014 using Motueka, along with Southern Cross, as its finishing hops.
Strisselspalt Hops 🇫🇷 - From the Alsace region of France around Strasbourg and is likely related to German Spalt and/or Hersbrucker hops. Thought to be an old land race, its acreage is dwindling due to its inherent low yield, but it survives largely on the back of a strong domestic demand for the variety. It is considered a pleasant continental-style aroma hop featuring subtle spicy notes, with herbal and floral aromas surrounding an undercurrent of citrus and fruit.
Barbe Rouge 🇫🇷 - A new and exciting hop variety developed in the legendary growing region of Alsace, France. Barbe Rouge is a bright and delicate aroma hop that offers ripe red fruit flavours of currant, strawberry, and raspberry. It also offers zesty citrus aromas of oranges and limes while some people describe a unique kumquat character. Barbe Rouge is well suited for American IPAs, NEIPAs, and pale ales while still being delicate enough to use in a modern twist on a classic pilsner.
Junga 🇵🇱 - A bittering hop that is commonly used only to bitter the beer during brewing, and not for too much flavour and aromas. While some call Junga a dual-purpose hop, it is mainly used for bittering. It has limited potential for aroma or dry hopping use, but as mentioned due to it being high in alpha acids (10-13%) it is most frequently utilized for bittering. However, if used for aroma, Junga hops give blackcurrant, grapefruit, and spice notes. Junga is comparable to German Magnum; not much taste but a great bittering hop.
These are just a few examples of the rare and unique varieties we carry in The Shop, right alongside the staples of modern craft brewing like Cascade, Galaxy, Vic Secret, Sabro & Simcoe. With these new additions to the inventory, we now boast hops from Canada (including locals from New Brunswick), the USA, UK, France, Poland, Germany, Austria, Australia, and New Zealand! You can travel the world of beer without ever leaving your home!
Thanks for reading, and if there is a variety of hop you would like us to carry in The Shop drop a comment below and let us know what you're brewing!
Cheers!
---