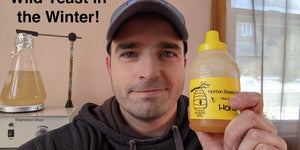 Harvesting Wild Yeast in the Winter Months
In our latest video Christian tries to harvest some wild yeast off the honey he had laying around in his kitchen.
We love brewing with wild yeast for a lot of reasons, but this passion is usually put on the back burner in the cold winter months when most outdoor strains are dormant… Let's see if we can turn a fun experiment into a way to get wild yeast varieties when its chilly outside!
Cheers!
Christian
---