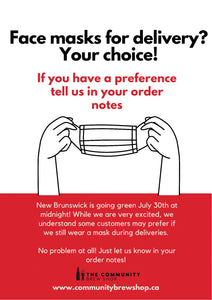 Getting Ready for Green!
That's right everyone, by now you know that the province of NB has decided to move to a "green" phase of COVID-19 recovery starting at midnight on July 30th, 2021. What does this mean for The Community Brew Shop?
In short, it means whatever you want it to mean for you! We are committed to offering the best customer service and part of that is making sure you feel comfortable as we move back to normal. 


Starting Saturday morning, July 31st, 2021 we will not be wearing masks while we are out and about for deliveries - UNLESS - you request it. Not quite ready to go maskless yet? No worries!
When you have products in your shopping cart and are ready to check out you will see a box marked special instructions for seller. If you want us to make your delivery with our masks on just put a little note there saying as much, and we will make sure sanitizer is used while picking your order, and masks are worn while making your delivery.
We are looking forward to moving ahead as part of the green phase of recovery, but if you're not quite ready, we are happy to make sure you feel comfortable when dealing with The Shop.
Cheers,
Christian & Derek
---