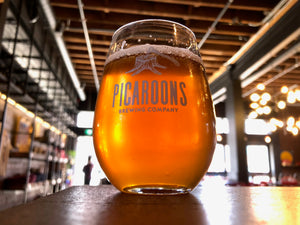 Straight Outta Elgin - Fresh Hop West Coast IPA
Our latest collaboration comes Straight Outta Elgin. Literally. One hour and 26 minutes from Uptown Saint John. While our friends mashed in, we picked hops and delivered them directly to the brewery and threw them directly into the boil. 
Fresh from our Elgin, New Brunswick hop yard comes our latest creation available in a limited volume, on tap only at Picaroon's General Store for a limited time. For this brew we chose to brew a West Coast style IPA using ONLY fresh hops. 
The trick with any fresh hopped brew is getting the bitterness, aroma and flavouring correct. Commercially available hops are generally dried, pelletized, analyzed and are usually plugged into specific formulas to let us know how bitter they will be so there is a certain input to output that can be expected. This is essentially where IBU comes from. It is the exact bitterness measurement - International Bitterness Units.
You don't get the luxury of knowing everything with fresh hops unless you have a lab on site to analyze key characteristics immediately, so using fresh hops on a large scale is a bit of a craps shoot.
Everything from soil conditions, weeds, weather, pests, and disease are somewhat difficult to control when producing hops, so the specifications will always be slightly different. On top of that throw in a some amateur hop farmers and things can be different each year.
There are other difficult things to deal with in a commercial or home brew setting that fresh hops can cause. Clogged pumps or exit ports being the largest problem, but things like absorption also can play a factor in missed volumes and overly bitter beer. 
Without stretching it out; it can be difficult, so we aired on the side of caution with this brew and decided to keep it fairly safe so we would have a good beer for the masses. We also wanted the hops to stand out and allow them to really shine with this brew so we stuck with a single 2-row addition of malt straight from the Prairies and topped things off with dextrose to boost the ABV and lighten the body slightly. This is not typical of a West Coast IPA malt profile, but the result ended up very similar. A hoppy refreshing beer with a slight sweetness and golden hue.  
Hops are the star of this beer. 
For this brew we added generous amounts of hops additionally for bittering to ensure the strong ABV would supported and the beer would stay clean, fresh and crispy. From the initial 60 minute addition we increased the hop weight upwards to finish with huge volumes of freshness to boost flavour and aroma.
Hops were added every 15 minutes to the end of the boil and again for 15 minutes in the whirlpool. Adding this many hops so quickly is a time crunch. Weighing fresh hops and stuffing them into straining bags to be put in the boil kettle within 15 minute intervals leaves nearly no time for beer drinking. Imagine the hardships we endured!
Finally this beer is aged slightly to allow things to come together. It is bitter, but not clingy; sweet but not mouth coating. We are really happy with the outcome! The biggest hit is the aroma and flavour derived from the huge addition of fresh hops towards the end of the boil. Grapefruit, orange and slight piney resinous aroma dominate the nose.
This is not a dank tropical juice bomb, as we wanted to keep a clean profile to showcase the interesting characteristics from our unique hops. The 3 varieties we added are west coast favourites: Cascade, Chinook and Centennial.
Sipping the beer starts sweet leading to bitterness and finally smooth cleansing feeling in your mouth. It is surprising crushable and makes for a great pairing with savoury cured meats, burgers, roasted or grilled veggies and desserts like cheesecake or carrot cake.
Coming in at 7.6% and as fresh as you can get, it will certainly sell quickly, so get some while it lasts! This beer will release October 27th, 2022!
---
2 comments