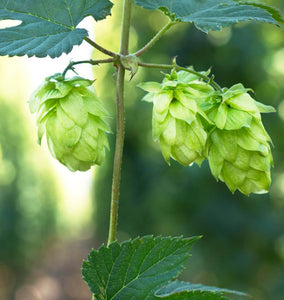 A Hoppy Backyard
Imagine sipping a cold, refreshing homebrewed beer infused with the delightful aromas and flavors of hops you cultivated in your own backyard. The good news is, you don't need vast farmland or a green thumb to embark on this hoppy journey. In this post, we'll explore the joys of growing hops in your backyard, from selecting the right varieties to harvesting your own hops for that perfect pint. Both Derek & I have explored growing hops of various varieties in the back yard, and have had great success - yielding fun fresh hopped beers early in the fall season.
Here are a few things to consider.
Selecting the Right Varieties: Before you dive into growing hops, it's essential to choose the right hop varieties that suit your taste preferences, climate, and available space. Common varieties like Cascade, Centennial, and Chinook are popular choices for their versatility and adaptability. We have grown these hop varieties for a number of summers now and they do very well in the NB climate. If you are sourcing other varieties, consider factors such as aroma, bitterness, and disease or pest resistance. Speaking of pests - if you like me, have a hard time cultivating floral or vegetable gardens on your property because of the high deer population in Southern NB, rest assured deer don't like to eat hops.
Preparing the Ground: Hops are vigorous climbers, so they require sturdy support structures. Begin by selecting a sunny location with well-draining soil for optimal growth. Prepare the ground by removing any weeds, rocks, or debris. Consider building a trellis system using durable materials like wood or metal. The trellis should be at least 18 feet high to accommodate the rapid upward growth of hops. Create a nutrient-rich environment by incorporating organic matter into the soil, and if you have a way to test for it, ensure a pH level between 6 and 7. If a trellis seems daunting, both Derek & I have used good quality twine or rope it support plants. This works especially well if you are growing in pots and don't have room to support a large trellis structure.
Planting and Care: Spring is the ideal time to plant hop rhizomes, which are root cuttings. Dig holes about one foot deep and wide, spacing them at least three feet apart to allow room for the plants to spread. Place the rhizomes horizontally in the holes, ensuring the buds face upward, and cover them with soil. Water generously and maintain a consistent watering schedule throughout the growing season. Hops require regular feeding, so consider using organic fertilizers or compost. Monitor for pests and diseases, and take appropriate measures to protect your plants. If growing hops in pots, be sure the pots are large enough to support the horizontal growth of the roots, and make sure you have holes drilled in the bottom to ensure good drainage.
Continued Growth: As your hop plants mature, you'll witness their remarkable growth, with lush foliage and towering bines that twist and climb the trellis or twine. It's a joy to see these beautiful plants transform your backyard into a mini hop farm. Regularly train the bines by gently winding them clockwise around the trellis, removing any excess growth (smaller shoots that prop up in the spring after the main bine begins to flourish). As you train the bines - especially in the spring - be sure not to damage the tip of the bine as it will stop growth all together, and you will be left with a dead plant this season. Admire the aroma-filled cones that form in late summer, ready to be harvested and transformed into your own unique homebrew creations in the early fall.
Harvesting and Future Seasons: Harvesting hops is an exciting reward for your efforts. Pick the cones when they feel dry, papery, and slightly sticky. Dry the cones thoroughly to reduce moisture and prevent mold. It's best to wear gloves when you harvest, especially if you are like me who gets a itchy skin reaction when stripping mature plants. Store them in airtight containers in a cool, dark place until you're ready to use them for brewing (and don't wait to long). Experiment with different brewing recipes to showcase the unique flavors and aromas of your homegrown hops, and share your creations with friends and family. In the fall you can cut the bines down and cover with a thin layer of straw to protect the roots against our cold winters, but this is not 100% necessary.
Conclusion: Growing hops in your backyard is a rewarding and fulfilling experience that connects you to the world of craft brewing. From selecting the right varieties to nurturing their growth and finally enjoying the fruits of your labor, the journey is a "hoppy" adventure. So, why not embark on this green-thumb endeavor and create a backyard oasis that fills the air with the intoxicating scent of hops and the taste of homemade craft beer?
Cheers to your hop-growing success!
Christian
---